Let's kick out BJP
It is very important that we remove Modi in 2024. Here I present some reasons. We also need to see what BJP is doing in the states where they rule for a bigger picture.
Poor economic growth and job-creation, deepening agrarian distress, rising caste and religious violence, and numerous corporate scandals are only some of supreme leader's achievements. In sum, the actions of the Modi government have damaged India economically, socially, institutionally, internationally, ecologically, and morally.
Modi's government wants not just our votes but the domination of psychological mindspace of the people, from controlling what people can wear, which religion they can follow, whom and where they marry, whom they are friends with, etc. This creates an additional layer of control of the ruling class over people.
Index
Bigotry and Hindu Nationalism
Segregation
Attacking Freedom of Speech
Crushing dissent
Women Rights
Kashmir Colonization and Repression
Harassing Journalists, Media and Human Rights Organizations
Jailing People Arbitrarily
Using Media As a Tool For Propaganda
Surveillance and Censorship
Online bullying and trolling
The evil Citizenship bill
Prioritizing Corporates Over People
Anti-Romeo Squads
Sabotaging Indian Citizens in Covid-19 Pandemic
Prashant Kishor put the handling of Covid-19 by the Modi government very well in his tweet: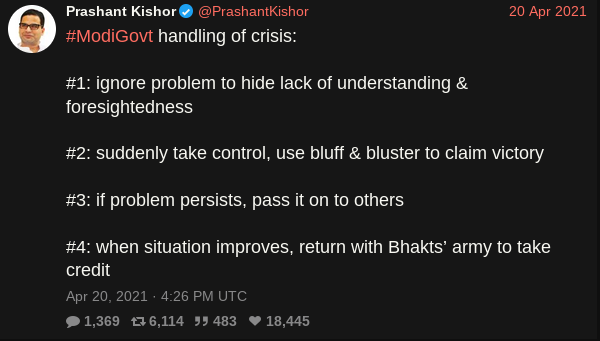 Ban on foreign funding
Downfall of Economy And Rise In Unemployment
Weakening The Federal Structure Of The Country
Weakening Institutions
Rewriting History
Quoting Purushottam Agrawal, who put it brilliantly, "History is targeted by Hindutva and other similar political ventures, because they need to project their present politics as a 'moral' obligation to rectify so-called historical wrongs." And that is the reason Hindutva groups seek to change the history to create a perception that will justify their actions.
Extrajudicial killings
Misdirections and Lies
Psychological studies have found that repeating a lie is a very effective tool for propaganda as people prefer familiarity to a statement rather than being rational. Modi also uses the same psychological tool to manipulate people.
Someone has created a website to document lies by Modi. Do check that out! The lies and propaganda by BJP is important to uncover because that creates a narrative, image and perception of BJP's policies, work, etc. and of opposition like Congress. The golden rule is not to believe any lies by Modi.
Covering Up Failures By Not Releasing Government Data
Destroying Nature And Environment
Promoting Pseudoscience
Miscellaneous
Gujarat Riots 2002
Gujarat riots happened in 2002 well before Modi came into power in India in 2014. But Gujarat riots cannot be forgotten in connection to Modi as he was a chief minister there and Modi was complicit.