Book Review: The Silent Coup: A History Of India's Deep State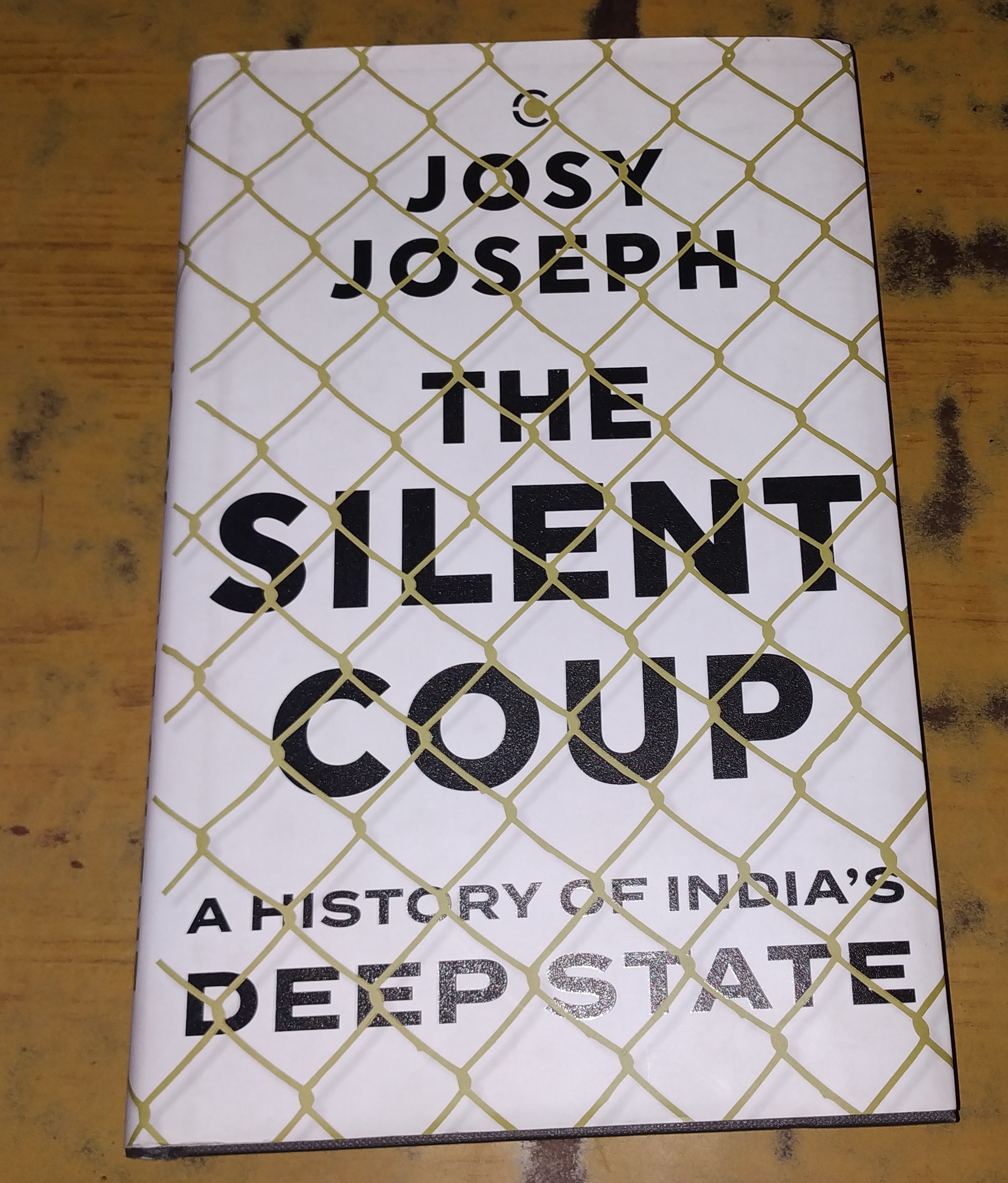 Josy Joseph, the author of the book, writes, "This book is an incomplete documentation of the vicious attack on the world's largest democracy by those who are duty-bound to protect it."
The Silent Coup tells a depressing tale of how the democracy of India has been subverted by the non-military security establishment. It argues that India's 'war on terror' has made its security institutions more nationalistic and chauvinistc and more corrupt. Democracy is when citizens have collective power and the collectively owned sovereignity of the state, while, in reality, citizens are indimidated by most state organizations and fearful to go to the police and have no assurance of justice in the judiciary system, which makes citizens self-censor and hinders with their freedom of expression.
Indian political class realized that relying on military for favors can ultimately devour everything, for example, as in Pakistan. So, if the political class wants control and power, they had to look out for a decentralized agency spread throughout the country. That tool has been the non-military security establishment of the country- such as the police, CBI, other intelligence agencies, the National Investigation Agency, the Anti-Terrorist Squad, the Enforcement Directorate, the Income Tax department, and so on.
For example, The Income Tax Department surveys small businesses, but they will not survey people who are subverting the country's economy, who are blatantly taking out billions of dollars and are visibily criminal. Josy Joseph also calls this system as, "a multi-headed hydra that seems to operate without a unified command, it is not often studied as an interconnected and complex system." Encounters are blatantly faked and then false narratives are cooked up in the court to cover them up with rarely the police facing any consequences.
A very elaborate reward and punishment system is put up by the political class, which rewards actions favorable to them and punishes this non-military security establishment for unfavorable actions. During the Indira Gandhi's emergency period, this Deep State learnt that serving the political masters is an easy path to career success without any consequences, unlike the difficult task of upholding the Constitution and the trust of the taxpayers. For example, during the emergency, Jagmohan was entrusted a task that involved large-scale demolition of slums. Despite this, Jagmohan was awarded the Padma Bhushan in 1977, and later on, became governer of Kashmir twice, and a minster in the BJP government. He got the rewards of serving the political master. On the other hand, IPS officer who questioned Modi's role in Gujarat riots gets life imprisonment.
The book includes the story of a school teacher named Wahid- a Muslim. The innocent Wahid was put 10 years in jail for blasts he had not done, and other 11 people who were framed were still in jail when Wahid was free, with the police officers facing no consequences. This shows how democracy has already been subverted. When people get different treatment by the law, by the system, how can that be called a democracy? The story of Wahid and many other such Muslims framed by police happen very brazenly and are not just rare cases.
Wahid was taken to a narco-analyst Malini for a narco test which he believed will prove his innocence. "She asked about the bomb blasts. 'How many people came and stayed with you?' Wahid said, no one. She asked him to say that four people stayed with him. Wahid was silent. 'What comes after three?' she asked. Wahid replied four." And then they cut the part of the video tape to make it like Wahid responded "four" to the question of how many people stayed with him. Malini was a fraud and it came into light, but she already sent thousands of people behind bars. It was found that she fabricated certificates for her appointment.
Quoting the author, "The sheer diversity of country's experience in dealing with unrest and militancy ought to have challenged the biases that have crept into the system. Yet, its presumption that terrorism is exclusive to Islam persists. Far too much of India's resources have been spent in tracking Islam terrorism, while some of its deadliest enemies have been secular Maoists, Hindus or Christians."